Ray Cole is President & Chief Operating Officer of Citadel Communications Company.  He is a native of Kingsley, Iowa.  His midwest values and work ethic were shaped at an early age
working in his father's grocery store. Ray went on to attend Briar Cliff College (now Briar Cliff University) where he graduated with honors. While at Briar Cliff, Ray completed an internship at KCAU-TV, the ABC affiliate in Sioux City, IA.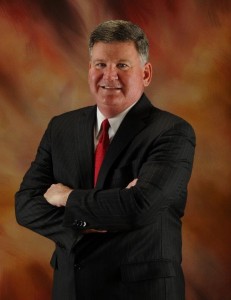 This opportunity propelled him into a career in broadcasting that now spans nearly 40 years.  
In his current role with Citadel, Ray is responsible for the oversight of KLKN-TV (ABC) in Lincoln, NE; WLNE-TV (ABC) in Providence, RI; and WSNN-LD (Independent News)  in Sarasota, FL.  
He was previously responsible for WOI-TV (ABC) in Des Moines, IA; WHBF-TV (CBS) in Rock Island, IL; and KCAU-TV (ABC) in Sioux City, IA prior to their sale in March, 2014. Ray and his wife, Susan, have three children; Kristy (Jeff) Latta, Brittney (Kane) Johnson, Brandon, and four grandchildren – Jackson, Addison, Grayson and Kaden.
Board of Governors, ABC Television Network (2004-Present)

Board Member, Broadcasters Foundation of America (2015-Present)

Board Member, National Association of Broadcasters (2008-2015)

Tournament Committee, 2017 Solheim Cup (2015-Present)

Board Member, Security National Bank-Sioux City (1993-Present)

Member & Past President, The Breakfast Club, Ltd. (1995-Present)

Board Member, Television Bureau of Advertising (2011-2014)

Executive Board, Principal Charity Classic (2008-2014)

Executive Board, Iowa Hall of Pride (2009-2014)

Board of Trustees, Briar Cliff University (2003-2006)

Chairman of the Board, Sioux City Chamber of Commerce (1992-1993)

Board Member, Iowa Broadcasters Association (Past)

Client Advisory Board, Nielsen Media Research Company (Past)

Board Member, Partnership for a Drug-Free Iowa (Past)

Board Member, Rock in Prevention (Past)

Board Member, United Way of Siouxland (Past)
Honors
Ward L. Quaal Leadership Award, Broadcasters Foundation of America (2016)

Hall of Fame

Inductee, Iowa Broadcasters Association (2015)

Honorary Chair, All-Star Evening to Benefit Character Counts (2014)

Father of the Year, American Diabetes Assn – Iowa Chapter (2013)

Admiral, Easter Seals Camp Sunnyside Raft Regatta (2013)

Honorary Chair, Variety-Children's Charity Telethon (2012)

Broadcaster of the Year, Iowa Broadcasters Association (2008)

Honorary Chair, Broadlawns Medical Center Fall Gala (2008)

Distinguished Alumnus of the Year, Briar Cliff University (2006)

Ad Person of the Year, Advertising Federation of SC (1994)
---