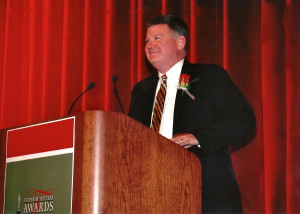 Ray will entertain, inspire, and inform your audience with an enlightening message drawn from his countless experiences of HANGIN' WITH WINNERS accumulated over the course of a Hall of Fame broadcasting career spanning five decades.  His themes of leadership, teamwork and success are punctuated by personal anecdotes involving WINNERS from the worlds of television, sports, entertainment and politics.  He is a master storyteller who attempts to make his presentations come alive for audiences of all ages and backgrounds. Topics include:
General Audience – 
HANGIN' WITH WINNERS (this popular presentation is the perfect keynote to open a conference or close a dinner)
Business Audience – 
Winning Leadership Traits

Winning Sales Techniques

A Winning Life Balance

Doing Well by Doing Good
Media Audience – 
Media and Marketing Trends

A Free Press, the First Amendment, and Democracy

Storm Clouds on the Sports Television Horizon
School-Age Audience – 
HANGIN' WITH WINNERS (the General Audience presentation noted above is customized for students with a "Doers Not Dreamers" message for maximum impact)
Ray's previous speaking engagements include keynoting, emceeing, and moderating at events such as business/industry/association conferences and retreats, high school and college programs (including commencement addresses), Chamber of Commerce and similar business dinners, and a wide range of community-focused events.  
Testimonials:
"Ray Cole is an outstanding man of character and his presentations inspire, uplift and motivate every audience. He is a gifted speaker with the unique ability to deliver a presentation that will positively impact the lives of others. I strongly encourage you to invite Ray to inform and enlighten your audience with a message sure to capture his tremendous life experiences.   His stories are real, entertaining and with purpose. You won't be disappointed."
     •  Scott Raecker, Director
        Robert D. & Billie Ray Center at Drake University
"It has been my great privilege and pleasure to know Ray Cole for 20+ years. He is passionate when it comes to industry and community service. Ray is also a dynamic public speaker who can deliver a substantive message in a fun, entertaining style. In particular, his Iowa roots, diverse media background, and previous leadership experience as a past chairman of the Siouxland Chamber of Commerce makes him an ideal choice to keynote your next chamber or community event. You won't regret it."
Gene Meyer, President




The Greater Des Moines Partnership
"Ray participated in our Management Committee retreat where his keynote presentation was extraordinary – it was extremely well received. Not only is he a man of uncommon wisdom but Ray has a knack for connecting with his audience right from the beginning of any program. He knows how to walk into a room and win over every person in short order. Ray and I have been business associates and friends for over 20 years – he is a confidante, a coach, a mentor and one of the most caring persons you can ever invite to speak at a special event."
Suku Radia, CEO




Bankers Trust
"Our staff is still raving about your inspirational talk to our BizTown campers. The kids really liked the structure of your "9B's" and especially the closing point to be kind to others. That message among young people today is so important for their confidence and self-image. It also complements nicely the purpose of Junior Achievement: to give young people a belief in themselves and gain a sense of purpose. If they "hang with winners" like you, this is much more likely! Thank you for making such an impact."  
Ryan Osborn, President
Deb Schneider, Camp Director
Junior Achievement of Central Iowa
"Ray Cole has served on our Executive Advisory Board at the Iowa Hall of Pride and been a trusted advisor to me. During the course of his broadcasting career, Ray has met more famous people, renowned athletes, and celebrities than anyone I know! The best part of knowing these people is that he has a 'back story' about each of them that is so engaging. When sharing those anecdotes, Ray's audience becomes fully engaged and takes away important life lessons. The best part about Ray is that he has remained grounded, humble and the most likable person to deal with."
Jack Lashier, Director
Iowa Hall of Pride