Richard John "Dickie V" Vitale is a Hall of Fame broadcaster for ESPN. This New Jersey native worked his way up the basketball ranks as a coach at the high school, college and professional levels. In March 1977, Dick coached his last college game when his University of Detroit team lost to a University of Michigan team coached by Johnny Orr in the Sweet 16 of the NCAA Men's Basketball Tournament. The game was televised by NBC with Curt Gowdy doing the play-by-play and coaching legend John Wooden handling the color. Johnny Orr would later leave Michigan to accept the head coaching position at Iowa State University where he led the Cyclones to unprecedented success. Meanwhile, Dick moved across town after that 1977 game to become the head coach of the Detroit Pistons in the NBA. It turned out to be a fairly short stint as the Pistons fired him early in the 1979-80 season. In a truly odd twist, the team had just launched a "ReVITALEized Pistons" marketing campaign a few weeks earlier.
Dick's abrupt firing just 8 games into his second season as an NBA coach (or "getting the ziggy" he Dick now refers to it) may well have been karma as it left him in a position to join an upstart little television enterprise called ESPN in 1979. He now jokes about thinking at the time, "You kidding me, what is ESPN? Sounds like a disease, man!" But as things would play out, he played a key role in the very first college basketball game ever aired by the network: No. 1 DePaul (with Coach Ray Meyer and All-American Mark Aguirre) versus intra-state rival Wisconsin. Nobody could have imagined at the time – most of all Dick – that he would go on to have a full and remarkable broadcasting career working thousands of games, all the while becoming a household name due to his colorful style, crazy antics, and genuine passion. In real life, Dick is exactly the same as his TV persona: a "slam, bam, jam" kind of a guy. His genuine exuberance for all facets of the game of basketball and, especially, for people from all walks of life is the cornerstone of his success.
The Vitale legacy, however, may have less to do with college basketball and more to do with finding a cure for cancer. In particular, he is a tireless advocate and fundraiser for pediatric cancer research. "The biggest priority in my life – the biggest – is raising dollars to help kids battle cancer," Dick has told me on several occasions. His passion in this area stems from an undying commitment to The V Foundation. It is ironic that the very first Final Four covered by Dick Vitale for ESPN was in 1983 where heavily-favored Houston was upset by a North Carolina State team coached by Jim Valvano. As fate would have it, he and "Jimmy V" would go on to work together at ESPN/ABC and become the closest of friends. In 1993, almost exactly ten years later, The V Foundation for Cancer Research was established by Valvano and ESPN. (see "The V Foundation" WINNER's profile) It has since funded more than $250 million in cancer research grants nationwide. Due to the efforts of Dick Vitale and other leaders on its board, the Foundation has an endowment that covers all administrative expenses allowing it to award 100 percent of all direct cash donations to research and related programs.
It has been remarkably gratifying to get to know and work with Dick and his wife, Lorraine, on many fronts on behalf of The V Foundation over the years including his annual Gala, telethons, golf events and other fundraisers. The 14th Annual Dick Vitale Gala in May 2019 was another sold-out affair that raised a record $4.3 million. The featured honorees were ESPN college football and tennis commentator Chris Fowler, Clemson football coach Dabo Swinney, and NBA and college player and coach Avery Johnson. ESPN president Jimmy Pitaro was joined on stage by V Foundation CEO Susan Braun and the family of Tyler Trent, a former Purdue University student and college football super fan who inspired many with his courageous battle against cancer. Pitaro announced a special research grant in Tyler's memory saying, "Tyler's wish was to raise as much money as possible for his type of cancer so that other kids and families do not have to experience this horrendous disease." That same spirit epitomizes the relentless efforts that Dick and Lorraine put into their Gala which over its history has now raised just under $30 million.
Dick Vitale is what he himself might call a 'Three-S' Man: Super, Scintillating, Sensational. In 2008, he received the sport's ultimate honor when he was inducted into the Naismith Basketball Hall of Fame. And in May 2019, Dick was honored with the Lifetime Achievement Award for Sports at the 40th Annual Sports Emmy Awards. "To have my name listed among the giants in sports broadcasting and to receive this prestigious award leaves my speechless, and you probably know that doesn't happen to me often," Dick said at the time.
Michigan State Coach Tom Izzo once said, "Most people know Dick Vitale for his unmatched passion for basketball.  And while that is certainly remarkable, what truly impresses me is his passion for life and for helping other people.  It's a lesson that should serve as an inspiration to us all."  I couldn't agree more. The role he plays as college basketball's most iconic ambassador and his undying philanthropic efforts make Dick Vitale an indisputable WINNER with a capital 'W'.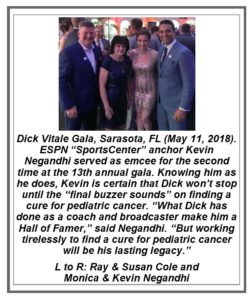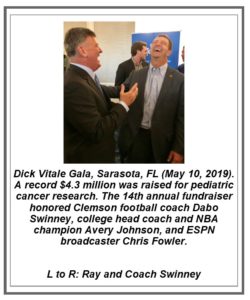 ABC "Good Morning America" Anchor Robin Roberts talks about the inspiration provided by Dick Vitale
ESPN "SportsCenter" Anchor Kevin Negandhi talks about Dick Vitale's passion for fighting pediatric cancer and his commitment to The V Foundation
What do Michael Jordan & Dick Vitale have in common?  2018 Dick Vitale Gala honoree Mike Greenberg explains…
Sources
Books –
Vitale by Dick Vitale with Curry Kirkpatrick (Simon and Schuster, 1988)
Dick Vitale's Living a Dream by Dick Vitale with Dick Weiss (Sports Publishing LLC, 2003)
It's Awesome, Baby by Dick Vitale with Dick Weiss and Joan Williamson (Ascend Books, 2014)
Websites –
"Dick Vitale" Retrieved from www.wikipedia.org
Dochterman, Scott (November 5, 2014). "McCafferys recall son's battle against cancer" Retrieved from www.thegazette.com
Vitale, Dick (November 17, 2014). "The Cauldron: Never Forget What Matters Most" Retrieved from www.medium.com
Vitale, Dick (May 12, 2015). "Gala another success" Retrieved from www.espn.go.com
Fernandes, Doug (May 15, 2015). "Tears and determination at Vitale Gala" Retrieved from www.heraldtribune.com
Church, Bill (May 16, 2015). "Editor: Vitale's enthusiasm is contagious" Retrieved from www.heraldtribune.com
Auerbach, Nicole (May 20, 2015). "Dick Vitale Gala raises $2.382M for pediatric cancer research" Retrieved from www.usatoday.com
Peterson, Randy (June 22, 2016). "Peterson: Dick Vitale and Gary Thompson – together, they're battling cancer" Retrieved from www.desmoinesregister.com
Serby, Steve (March 10, 2018). "Dick Vitale on paying players, working at 100 and being awesome with a capital A" Retrieved from www.nypost.com
(February 12, 2019). "Dick Vitale Sports Emmy Lifetime Achievement Award Honoree" Retrieved from www.emmyonline.tv
Krulewitz, Josh (May 13, 2019). "Dick Vitale Gala Raises Record-Setting $4.3M For Cancer Research" Retrieved from www.espnfrontrow.com
Last Updated: November 20, 2019