Richard John "Dickie V" Vitale is a Hall of Fame broadcaster for ESPN. This New Jersey native worked his way up the basketball ranks as a coach at the high school, college and professional levels. In March 1977, Dick coached his last college game when his University of Detroit team lost to a University of Michigan team coached by Johnny Orr in the Sweet 16 of the NCAA Men's Basketball Tournament. The game was televised by NBC with Curt Gowdy doing the play-by-play and coaching legend John Wooden handling the color. Johnny Orr would later leave Michigan to accept the head coaching position at Iowa State University where he led the Cyclones to unprecedented success. Meanwhile, Dick moved across town after that 1977 game to become the head coach of the Detroit Pistons in the NBA. It turned out to be a fairly short stint as the Pistons fired him early in the 1979-80 season. In a truly odd twist, the team had just launched a "ReVITALEized Pistons" marketing campaign a few weeks earlier. 
Dick's termination may well have been karma as it left him in a position to join an upstart little television enterprise called ESPN in 1979. He now jokes about thinking at the time, "You kidding me, what is ESPN? Sounds like a disease, man!" But as things would play out, he was part of the very first college basketball game ever aired by the network: No. 1 DePaul (with Coach Ray Meyer and All-American Mark Aguirre) versus intra-state rival Wisconsin. Nobody could have imagined at the time – most of all Dick – that he would go on to work thousands of games and became a household name due to his colorful style, crazy antics, and genuine passion. In real life, Dick is exactly the same as his TV persona: a "slam, bam, jam" kind of a guy. His genuine exuberance for all facets of the game of basketball and, especially, for people from all walks of life is the cornerstone of his success.
The Vitale legacy, however, may have less to do with college basketball and more to do with finding a cure for cancer. In particular, he is a tireless advocate and fundraiser for pediatric cancer research. "The biggest priority in my life – the biggest – is raising dollars to help kids battle cancer," Dick has told me on several occasions. His passion in this area stems from an undying commitment to The V Foundation. It is ironic that the very first Final Four covered by Dick Vitale for ESPN was in 1983 where heavily-favored Houston was upset by a North Carolina State team coached by Jim Valvano; he and "Jimmy V" would go on to work together at ESPN/ABC. In 1993, almost exactly ten years later, The V Foundation for Cancer Research was established by Valvano and ESPN. (Note: see "The V Foundation" WINNER's profile) It has since funded more than $200 million in cancer research grants nationwide. Due to the efforts of Dick Vitale and other leaders on its board, the Foundation has an endowment that covers all administrative expenses allowing it to award 100 percent of all direct cash donations to research and related programs. 
It has been remarkably gratifying to join and work with Dick and Lorraine Vitale on many fronts on behalf of The V Foundation over the years, including his annual gala, telethons, golf events and other fundraisers. The 13th Annual Dick Vitale Gala in May 2018 was a sold-out affair featuring honorees Mike Greenberg, ESPN television and radio personality; Leonard Hamilton, Florida State University Head Men's Basketball Coach; and Jim Harbaugh, University of Michigan Head Football Coach. Greenberg and his wife, Stacy, co-authored a children's book, MVP: Most Valuable Puppy, and agreed to donate 100% of their proceeds to pediatric cancer research through The V Foundation. Dick also recruits celebrities in his fight against pediatric cancer and those in attendance included all four 2018 NCAA Basketball Tournament Final Four Coaches: Jay Wright, Villanova University; John Beilein, University of Michigan; Bill Self, University of Kansas; and Porter Moser, Loyola University Chicago. Other notable personalities in attendance included David Robinson, the newest V Foundation board member and former NBA star; Grant Hill, host of NBA-TV's NBA Inside Stuff and former NBA star; Shelley Smith and Kevin Negandhi, ESPN talents; Mike Brey, Notre Dame University Men's Basketball Coach and past Vitale Gala honoree; Tom Crean, University of Georgia Men's Basketball Coach; and Johnny Dawkins, University of Central Florida Men's Basketball Coach and former NBA star. "Inspirational – that's the best word to describe the Vitale Gala," said Susan Braun, Chief Executive Officer of The V Foundation. "Athletes, coaches, media personalities, business leaders and a host of supporters of the 'V' coming together with one purpose: to raise money that funds outstanding research that will help us cure pediatric cancers." The event raised a record-breaking $3.7 million, bringing the aggregate total raised to help defeat pediatric cancer since the first Dick Vitale Gala in 2006 to just over $25 million. 
Dick Vitale is what he himself might call a 'Three-S' Man: Super, Scintillating, Sensational. In 2008, he received the sport's highest honor when he was inducted into the Naismith Basketball Hall of Fame. Dick is a WINNER with a capital 'W'.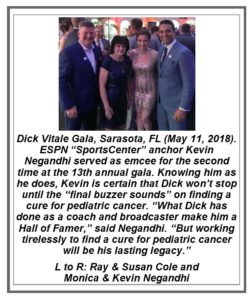 ABC "Good Morning America" Anchor Robin Roberts talks about the inspiration provided by Dick Vitale
ESPN "SportsCenter" Anchor Kevin Negandhi talks about Dick Vitale's passion for fighting pediatric cancer and his commitment to The V Foundation
What do Michael Jordan & Dick Vitale have in common?  2018 Dick Vitale Gala honoree Mike Greenberg explains…
Sources
Books –
Vitale by Dick Vitale with Curry Kirkpatrick (Simon and Schuster, 1988)
Dick Vitale's Living a Dream by Dick Vitale with Dick Weiss (Sports Publishing LLC, 2003)
It's Awesome, Baby by Dick Vitale with Dick Weiss and Joan Williamson (Ascend Books, 2014)
Websites –
"Dick Vitale" Retrieved from www.wikipedia.org
Dochterman, Scott (November 5, 2014). "McCafferys recall son's battle against cancer" Retrieved from www.thegazette.com
Vitale, Dick (November 17, 2014). "The Cauldron: Never Forget What Matters Most" Retrieved from www.medium.com
Vitale, Dick (May 12, 2015). "Gala another success" Retrieved from www.espn.go.com
Fernandes, Doug (May 15, 2015). "Tears and determination at Vitale Gala" Retrieved from www.heraldtribune.com
Church, Bill (May 16, 2015). "Editor: Vitale's enthusiasm is contagious" Retrieved from www.heraldtribune.com
Auerbach, Nicole (May 20, 2015). "Dick Vitale Gala raises $2.382M for pediatric cancer research" Retrieved from www.usatoday.com
Peterson, Randy (June 22, 2016). "Peterson: Dick Vitale and Gary Thompson – together, they're battling cancer" Retrieved from www.desmoinesregister.com
Serby, Steve (March 10, 2018). "Dick Vitale on paying players, working at 100 and being awesome with a capital A" Retrieved from www.nypost.com